Keywords
Some definitions of the core concepts of Seaview Network
Fisheries
Around 1500 fish stocks around the world are commercially fished, with the various stocks being exploited to different extents. Comprehensive estimations of abundance currently exist for only around 500 of these stocks. In most cases these are the stocks which have been commercially fished for many decades. For many years, exact records have been kept of what and how much is caught: the tonnages and also the age and size of the fish. Very little is known about other fish species and maritime regions – particularly the Exclusive Economic Zones of some developing countries.
The pressure on fish populations has been escalating for years. According to the current SOFIA Report (FAO), the proportion of overexploited or depleted stocks has increased from 10 per cent in 1974 to 29.9 per cent in 2009. After temporary fluctuations, the proportion of fully exploited stocks rose during the same period of time, from 51 per cent to 57 per cent. The proportion of non-fully exploited stocks, in contrast, has declined since 1974 from almost 40 per cent to only 12.7 per cent in 2009.
A clear trend is therefore emerging: as far as overfishing and the intensive exploitation of the oceans are concerned, the situation is not improving; it is slowly but steadily deteriorating. It is interesting that the total annual fish catch has been fluctuating for about 20 years between a good 50 and 60 million tonnes. It peaked in 1994 at 63.3 million tonnes. In 2011 a total of 53.1 million tonnes was landed – about four times more than in 1950 (12.8 million tonnes).
The situation is grave, but not without hope. The days of rampant overfishing are over in many regions. After stocks began to collapse in the 1970s, 1980s and 1990s, leading to the loss of many jobs, it gradually became clear to the fishing industry and policy-makers in various countries that overfishing is not only an environmental but also an economic problem. Some nations took the necessary steps to avoid any repeat of the situation. Australia, Canada, New Zealand and the USA, for example, developed fisheries management plans which limit catches to the extent that overfishing will be largely avoided in future. Europe has also learned from some of its mistakes. After massive overexploitation of the North Sea herring in the 1970s the fishery was completely closed for several years. The stocks recovered. Here too a fisheries management regime was introduced to prevent any renewed collapse.
Biodiversity
Biodiversity is now commonly defined as the variety of life in genes, species and habitats. According to the definition of the Convention on Biological Diversity, biodiversity is the variability among living organisms from all sources, including inter alia, terrestrial, marine and other aquatic ecosystems and the ecological complexes of which they are part; this includes diversity within species, between species and of ecosystems.
marine bioviversity
Marine ecosystems inlude salt marshes, intertidal zones, estuaries, lagoons, mangroves, coral reefs, the deep sea, and the sea floor. Marine ecosystems are very important for the overall health of both marine and terrestrial environments. According to the World Resource Center, coastal habitats alone account for approximately 1/3 of all marine biological productivity, and estuarine ecosystems (i.e., salt marshes, seagrasses, mangrove forests) are among the most productive regions on the planet. In addition, other marine ecosystems such as coral reefs, provide food and shelter to the highest levels of marine diversity in the world.
Fish are very diverse animals and can be categorised in many ways. Although most fish species have probably been discovered and described, about 250 new ones are still discovered every year. According to FishBase, 33,100 species of fish had been described by April 2015. That is more than the combined total of all other vertebrate species: mammals,amphibians, reptiles and birds. Marine fishes can be demersal or pelagic. Demersal fish live on or near the bottom of oceans and lakes, while pelagic fish inhabit the water column away from the bottom. Most oceanic species (78 percent, or 44 percent of all fish species), live near the shoreline. These coastal fish live on or above the relatively shallow continental shelf. Only 13 percent of all fish species live in the open ocean, off the shelf.
Scenarios
A scenario is a consistent picture of a possible future reality that informs the main issues of a decision debate. It is not a forecast; rather, each scenario is one alternative image of how the future can unfold (IPCC 2014). Scenario development emerged following World War II in US military strategic planning. Today scenarios are used in a wide range of contexts by small, medium and large enterprises; in regional, national foresight studies; and in environmental assessments for public policy for example the UNEP's Global Environmental Outlook, CBD's Global Biodiversity Outlooks , OECD's Environmental Outlook to 2050, UK's National Ecosystem Assessment.
Biodiversity scenarios, which are the outputs of the combination of socio-economic scenarios and models of impacts of global change on biodiversity, are essential tools for
providing information about future impacts of global changes such as land use change, invasive alien species, overexploitation, climate change or pollution,
providing decision support by developing adaptive management strategies
evaluating the implications of alternative social-economic development pathways and policy options.
One of the key objectives in using scenarios is to move away from the current reactive mode of decision making in which society responds to the degradation of biodiversity and ecosystem services in an uncoordinated, piecemeal approach, to a proactive mode in which society anticipates change and thereby minimizes adverse impacts and capitalizes on important opportunities through thoughtful adaptation and mitigation strategies.
Model-based scenarios are scenarios relying on a mathematical or numerical model that is consistent with historical or observed evolutions. This consistency is usually obtained through the calibration of models which consists in estimating the value of parameters underpinning the model by fitting the observations to the outputs induced by the model.
It is useful to distinguish between three broad classes of scenarios – "explorative, predictive and normative scenarios".
Predictive scenarios, such as forecasts, can respond to the question 'What will likely happen?'. Predictive scenarios include status quo, business as usual or most likely scenarios.
Explorative scenarios describe the possible and can respond to the question 'What can happen?'. They aid in a process to develop robust strategies, which can survive several kinds of external developments.
Normative scenarios can respond to the question 'How can a specific target be reached?'. Normative scenarios are based on backcasting or backward approaches by contrast to forward methods underlying explorative or predictive scenarios.
CBD's Global Biodiversity Outlooks
L. Börjeson, M. Höjer, K.-H. Dreborg, T. Ekvall, G. Finnveden Scenario types and techniques – towards a user's guide
Futures, 38 (2006), pp. 723–739
EBFM
Definition of Ecosystem Based Fishery Management: According to the FAO (2003), an ecosystem based fishery management strives to balance diverse societal objectives, by taking into account knowledge and uncertainties about biotic, abiotic and human components of ecosystems and their interactions and applying an integrated approach to fisheries within ecologically meaningful boundaries.
more information on the ecosystem approach to fisheries management (FAO) or definition proposed by Pikitch et al.
Ecological Economics
Ecological economics and bio-economics refers to the scientific researches that address the interdependence and coevolution of human economies and natural ecosystems over time and space. Major objectives of both fields include the assessment and the management of biodiversity and ecosystem services. A relevant bio-economic policy relies on the combination of three ingredients:
scientific knowledge (models, data)
intertemporal and shared goals
instruments (quotas, taxes, quota markets, protected areas, ...) to achieve these goals.
Bioeconomics is closely related to the early development of theories in fisheries economics, initially in the mid-1950s by Canadian economists Scott Gordon (in 1954) and Anthony Scott (1955). Their ideas used recent achievements in biological fisheries modelling, primarily the works by Schaefer (1957) on establishing a formal relationship between fishing activities and biological growth through mathematical modelling confirmed by empirical studies. Colin Clark (1976) introduces modern capital theory and optimal control methods in the field. Ecological ecological and bio-economics differ in the sense that ecological economists advocate "strong" sustainability and reject the proposition that natural capital can completly be substituted by human-made capital.
Ecosystem Services
Marine Ecosystem Services  can be divided into several categories (Millennium Ecosystem Assessment, UNEP. 2006):
Provisioning services. These include food, water, timber, and fiber. More than a billion people worldwide rely on fish as their main source of protein. Fisheries and associated industries employ 38 million people directly, and another 162 million are indirectly supported. Other provisioning services from marine ecosystems include building materials from mangrove and coral reef areas, and pharmaceutical compounds derived from marine algae and invertebrates.
Regulating services. These include regulation of climate, natural hazards such as floods, disease, wastes, and water quality. For example, coastal wetlands play an important role in water quality regulation by capturing and filtering sediments and organic wastes in transit from inland regions to the ocean. On a global scale, fixation of atmospheric carbon by oceanic algae and its eventual deposition in deep water represents an important part of the global carbon cycle and thus influences climate trends.
Supporting services. These include soil formation, photosynthesis, and nutrient cycling by healthy ecosystems, which support goods and services used more directly by humans. Coastal habitats such as seagrass beds and mangroves are important nursery areas for the young stages of fishes and invertebrates that support coastal communities and commercial and recreational fisheries.
Cultural services. These include recreational, esthetic, and spiritual benefits derived from nature. Coastal tourism is the fastest-growing sector of the global tourism industry, and is a major part of the economies of many small island developing nations. Scuba diving and other nature-based tourism on coral reefs, for example, is estimated to contribute $30 billion to the global economy each year. Moreover, the cultures and traditions of many coastal peoples are intimately tied to the marine ecosystems on which they depend.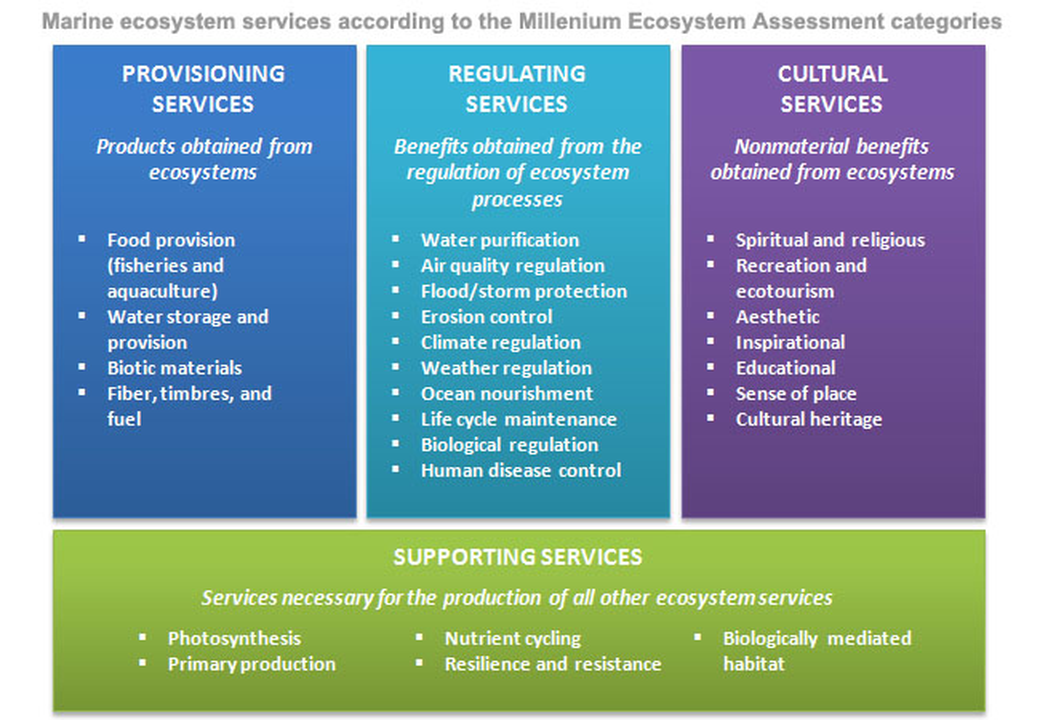 Viability
The aim of viability modeling approach is to explore states and controls that ensure the "good health" and safety of dynamic and mechanistic systems. By identifying the viability conditions
that allow multiple constraints to be fulfilled over time, considering both present and future states of a dynamic system, the viability approach conveys information on sustainability and intergenerational equity¹.
Resilience and recovery goals can also be addressed through viability modeling using the notion of minimal time of crisis. The recent development of probabilistic viability² also gives major insights in terms of risks or vulnerabilities management.
The constraints underpinning viability can involve ecological thresholds as in the case of an extinction threshold in population viability analysis (PVA).Economics constraints (guaranteed rent, food security, ...) can also be integrated as in thus allowing for multi-criteria and bio-economic analyses. The viability kernel  plays a pivotal mathematical role in viability analysis.
In blue the viability kernel represents the set of initial conditions of the system which ensures that the controlled dynamics (illustrated by the system trajectories) will satisfy the viability constraints at any time. Here only  two constraints (green dotted lines) are representedwith associated thresholds:  the ecological (Biodlim) and food security (hlim) ones (the economic constraint is omitted).  Below these two thresholds the viability constraints are violated (the system is in crisis). Above the thresholds, for red trajectories, initial conditions are viable at t=0 but the dynamics of the system is such that future crisis can not be avoided. Only within the viability kernel is the system viable and will remain so at any time in the future (blue trajectories).
The approach has already been successfully applied to biodiversity valuation  and to fisheries management in several contexts 
including ecosystem or biodiversity dynamics. In relation to food security or provide useful bio-economic  insights in the context of developing countries under important demographic pressure.
Viability modeling is now recognized by a growing number of researchers³  as a relevant framework for ecosystem based management for fisheries.
1: Baumgartner S., Quaas M.F. (2009) Ecological-economic viability as a criterion of strong sustainability under uncertainty. Ecological Economics, 68 (7), 2008-2020
2: Doyen L., Delara M. (2010) Stochastic viability and dynamic programming, Systems and Control Letters. 59, 10, 629-634. 
3:Thébaud, O., et al. (2013) Building ecological-economic models and scenarios of marine resource systems: workshop report. Marine Policy, 43, 382-386.